OUR ATTORNEYS
Andrew Parslow
818-957-0477 ext. 104
asp@caledlaw.com
Glenn Block [View Bio]
A.J. Hazarabedian [View Bio]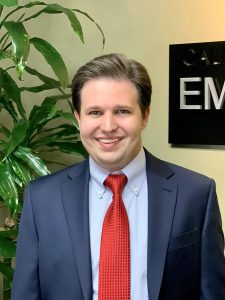 Andrew Parslow is an associate attorney specializing in Eminent Domain litigation representing property and business owners as well as public agencies. He was admitted to the California Bar in January 2021 and is a member of the Los Angeles County Bar Association and is licensed to practice law in all state courts in California.
Andrew received his Bachelor of Science degrees in Economics and Political Science from Florida State University in Tallahassee, Florida, graduating magna cum laude. He obtained his Juris Doctorate Degree from The College of William & Mary, Marshall-Wythe School of Law in Williamsburg, Virginia.
Andrew was published in William & Mary's Environmental Law and Policy Review journal, one of the nation's premier environmental law journals. His article, A Defense of the Regulatory Takings Doctrine: A Historical Analysis of this Conflict Between Property Rights and Public Good and a Prediction for its Future, discusses the history and development of property rights in Anglo-American Jurisprudence and how they shape modern regulatory taking issues, particularly in regard to inverse condemnation.
Additionally, he served as a guest speaker on the topic of eminent domain on the podcast Exhibit AI. On episode 11, Smart Cities & The Takings Clause, he discussed how the use of the evolving technologies that are reshaping our cities can lead to potential conflict with the property rights of the city's inhabitants and how municipalities can best plan for these issues.
Podcast Exhibit AI - Exhibit 11 Smart Cities & The Takings Clause