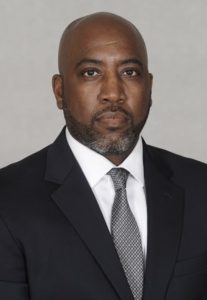 Christopher Washington is a Senior Associate specializing in Eminent Domain litigation representing property and business owners, as well as public agencies.  Chris was admitted to the California Bar in 2015 and is licensed to practice law in all state courts in California.
Chris attended law school while working full-time for the Los Angeles Superior Court as a Judicial Assistant.  For most of his 25+ years at the Court, Chris served as the Judicial Assistant/Clerk for Commissioner Bruce E. Mitchell in Department 59 at the Stanley Most Courthouse, which was the only dedicated Eminent Domain courtroom in California.  Chris also worked with the Honorable David P. Yaffe (Writs and Receivers), and the Honorable Deirdre H. Hill (General Civil Litigation).
Chris earned his Juris Doctorate degree from Glendale University College of Law. Chris earned his Bachelor of Science, magna cum laude, in Business Administration with an emphasis in Finance from California State University Dominguez Hills. He also became a Licensed Real Estate Agent in 2004.
Prior to joining California Eminent Domain Law Group, Chris was a general civil litigator, most recently at Lewis, Brisbois, Bisgaard & Smith with their Long-Term Care & Elder Law practice group.